Checkout Setup Information: Payment Methods and Credit Cards
Support Article ID: 81349
Checkout Setup Information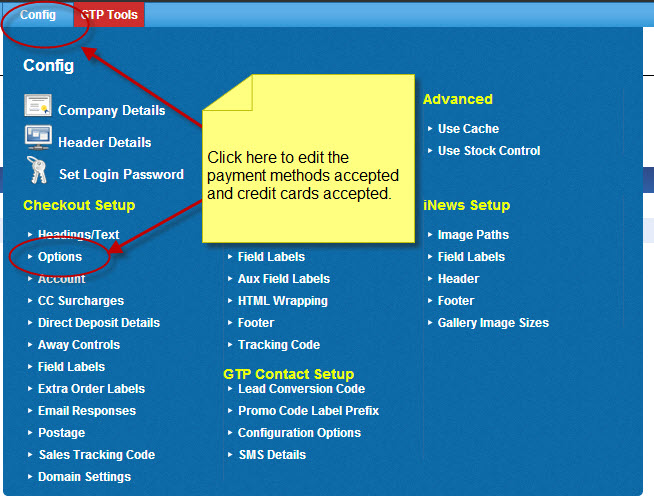 Setting Up or Changing Payment Methods Accepted
Select the payment methods you want your web site to accept if customers are allowed to order from your web site.
To select multiple items on this page hld the CTRL key down as you select each payment method.
We have 13 potential payment methods
Credit Card
Cheque/Money Order
Client Account
Invoice
Charge Back Account
Direct Deposit
ISPePay (To be Removed)
Paypal
Making the Phone Number Field Come into the GTP Checkout from PayPal

Just login to PayPal
Click on the word Profile in the top navigation bar (Its next to resolution center)
Click on My Selling Tools  (On the Left)
Click on Update next to Website Preferences : Return Customers to my web website after they pay with paypal
Scroll down to "Contact Telephone Number"
Select On (Required Field) for the Contact Telephone Number section
Click Save
Done

Voucher
Payment on Pickup
Cash on Delivery
Bartercard
Call me for CC Details
Changing the Credit Card Types Accepted
Select the credit card types you accept and update the page to store these settings.
Four credit card options can be selected from
Visa
Mastercard
American Express (amex)
Diners Club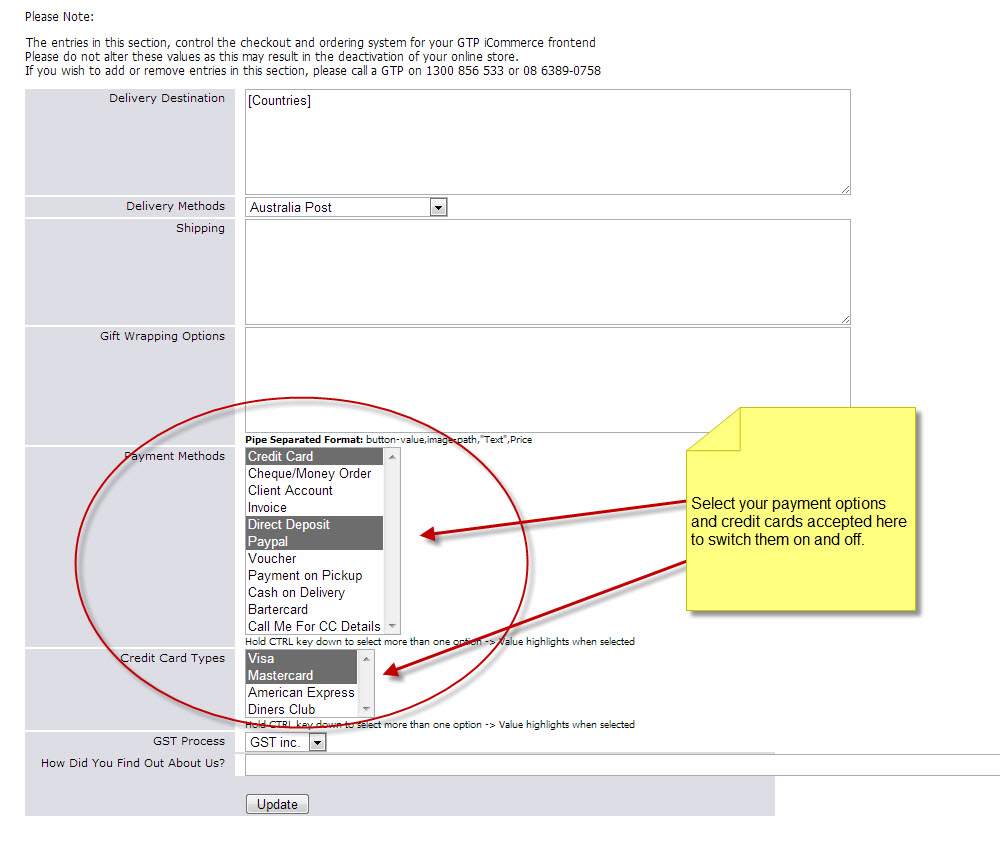 GST Process
Choose between GST inc. and GST Ex. Unless specified otherwise this should always be set to GST inc.
The rate for GST is hard coded into the system
GST Rate - Luke Hosted Sites Only
This should be set to 1.10 for Australian sites
New sites on luke need to be checked whether this field is being used as the GST rate may be hard coded into most sections of the front and back of the web site. Seek clarification from the programming team
Bevan what is the status of the GST rate

How Did You Find Out About Us
This question can be asked during the customer checkout experience. Simply comma or pipe separate a list of your marketing methods. The customers response is sent through the email. The field can also be left blank
e.g. Google|Bing|Yahoo|Other Web Site|Friend|Email

See image